Goodbye 2020 and welcome 2021! It's been some time since I've been in my scrap room and I'm excited to get back into a creative mode! This is a layout I've had peculating in my mind for quite a while now. COVID has certainly impacted all of us, and the Stay Home cut file by AnettsDesigns fit perfectly for the feel I was looking to achieve. While each of us have our own stories to tell about this pandemic, I love how this cut file symbolizes that we're not alone. We are a street – a city – a province – a country – we are a WORLD experiencing the same challenges, and thankfully – we are not alone.
Our first Lockdown started on March 17, 2020. Little did we know then, that it would last a little over 2 months, and that we wouldn't be out of the woods when it was over. It was a stressful, scary time when we retreated to our homes to stay safe. I'm a lucky Nana, who lives right across the street from her three beautiful grandchildren. But all the sudden, I was no longer able to go over to play, or read bedtime stories. We communicated daily through video calls. Not as good as being there in person, but certainly a second best, and I cherished those calls daily. Ben, the youngest of the grandchildren, was only 19 months when the Lockdown was called. Far too young to comprehend the enormity of the situation, he was just confused as to why he could not longer play with Nana and Bampa.
My loving daughter, Lindsay, took this photo later in March. My husband and I would go for daily walks, and I would always stop by daughter's house to see if they were near and could see us outside. Ben caught on quickly and looked forward to "seeing" us through the bay window in their front room. When this is the closest connection you can make, you treasure every second!
For those interested in the scrapping process, I started with Vicki Boutin's white foundations mixed media art paper. I applied a thin coat of Gesso and let it dry. While the Gesso dried, I sized and cut Anett's file on my Silhouette using white cardstock. (You can find Anett's cut file here: https://www.etsy.com/ca/listing/885200059/stay-home-cut-file-svg-png-pdf-dxf?ref=yr_purchases.)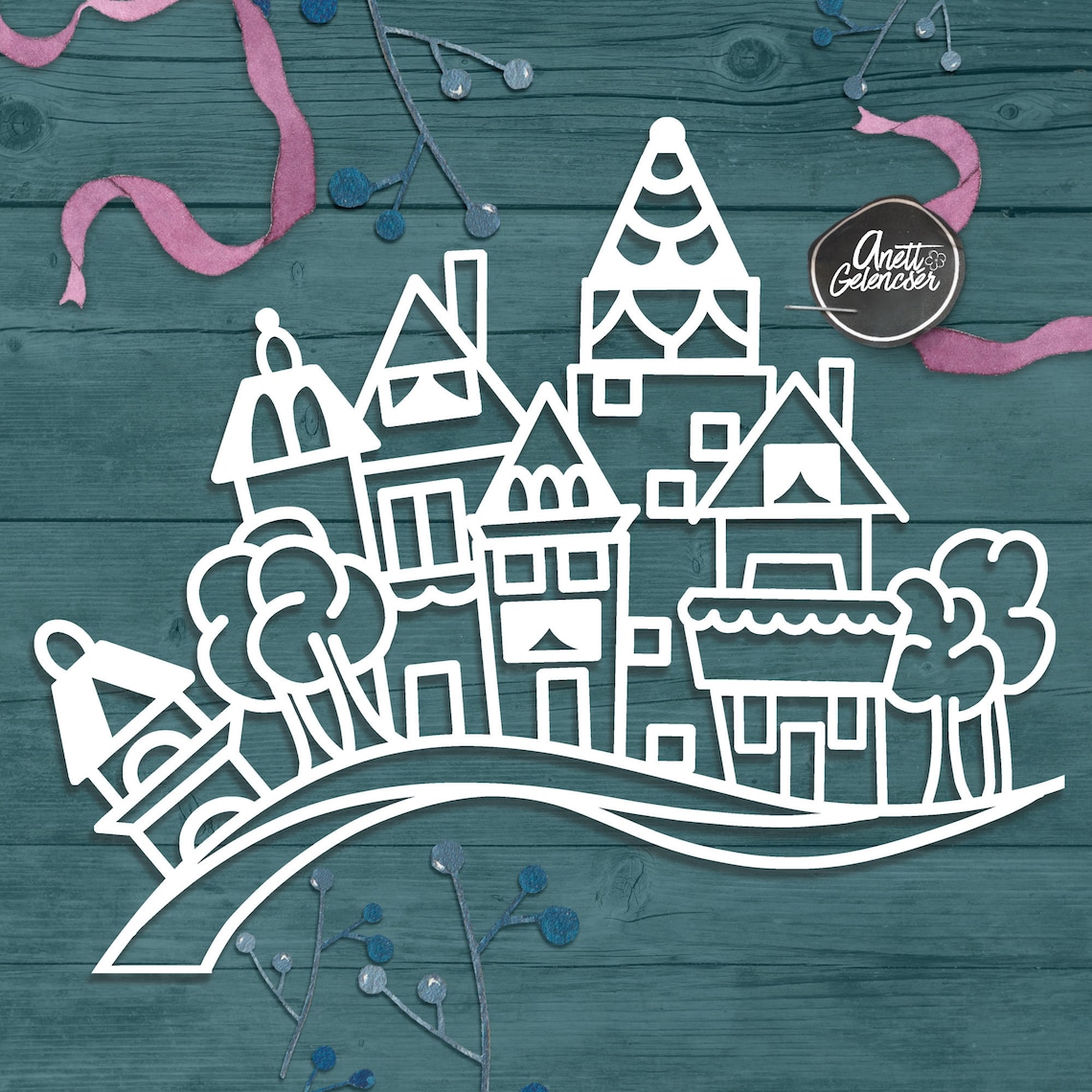 Prior to cutting the colourful backing, I used the "Fill" function in the Silhouette software to help map out the look I was trying to achieve. Once the cut file was fully backed, I decided where I wanted the cut file to lay on the page, and very lightly traced around it. The pencil outline helped guide the inking process. Three colours of Tim Holtz Distress Ink were used to create the background (Broken China, Chipped Sapphire, Mowed Lawn). When the ink was dry (I let it sit overnight), I stamped and heat embossed some random stars using white embossing powder. The stars came from My Favourite Things "Unicorns & Glitter" stamp set.
Before adhering the matted photo and cut file to the page, the cut file was backed with double sided foam (1 mm thickness). This took quite a bit of time as I really wanted the vellum windows to remain clear, allowing you to see through to the original page. I'm a lover of textures and layers and creating this slightly raised 'street' added another layer to the layout. American Crafts Thickers were used for the title and I hand wrote my message to Ben below it. The final element was adding the "this is hard" sticker from Pinkfresh's "Let's Stay Home' collection to the bottom left of the cut file.
Well, here we are in Lockdown number two. We know the drill, we're more prepared, and a vaccine is on the way! Here's hoping we'll all be able to be out and about safely soon. Until then, stay safe and happy scrapping!